Meet Dr. Christopher Fallago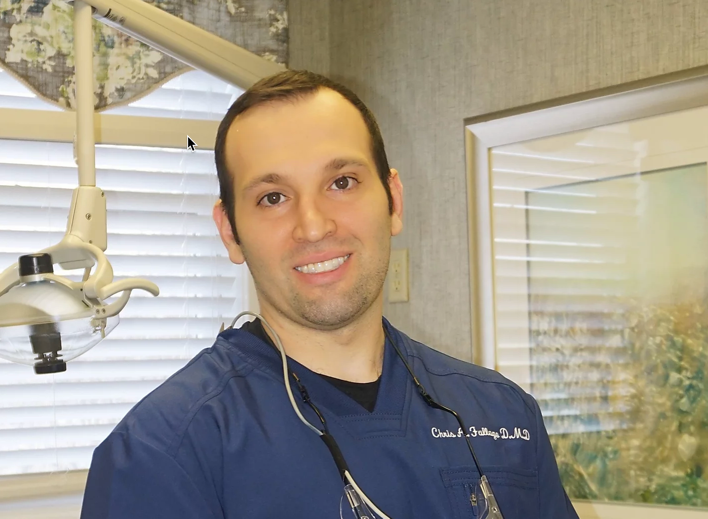 Your Dentist
I believe that every person should have a smile that is comfortable and healthy. Not everyone has the same definition of the ideal smile. My team and I strive to work with every patient to identify your goals, and make them a reality.
We try to improve our patients health as much as possible, and with advances in modern dentistry, we can do things now that just weren't possible before. Modern medicine has moved away from waiting for a disease to occur, and towards preventing it. My goal therefore is to not only treat whatever dental problem that arise, but also to provide preventative treatment. I try to provide the highest level of care to my patients, and stay up to date on the latest research and treatments available. I stay up to date by attending study club meetings, conferences and continuing education.
​
About Dr. Fallago
Dr. Fallago is a native of Rhode Island. He received a bachelors degree from Assumption College and a Masters in Medical Science degree from Boston University School of Medicine. Dr. Fallago graduated Magna Cum Laude from Boston University Henry M. Goldman School of Dental Medicine. After dental school, he attended NYU Lutheran's Advanced Education in General Dentistry program.
Dr. Fallago is a member of the Academy of General Dentistry, the American Dental Association, and the Rhode Island Dental Association.
Aside from learning the latest in dentistry, Chris enjoys snowboarding, ice hockey and is an avid woodworker.  Chris and his wife, Vanessa, enjoy exploring Connecticut's many beautiful parks and attractions and trying out the local restaurants. He has two brothers and a chocolate lab named Gino.