Cone-Beam Computed Tomography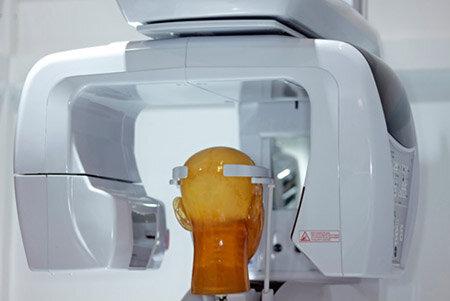 Cone beam Computed Tomography (CBCT) 3D imaging uses an advanced, 3-dimensional x-ray scanner to capture accurate and reliable images of your mouth, jaw and facial structure. Weiser & Grant Dentistry has invested in the latest technology to ensure that your diagnosis and treatment are the most accurate they can be, with precision and excellent care.
Benefits of CBCT
Cone beam imaging can capture images of your bone, soft tissue, and teeth all at once, unlike traditional x-rays. These images are of a higher quality than even the highest-quality multi-slice CT scanners.
Cone beam imaging is an alternative to traditional CT scans. While CT scans are safe and effective, they expose patients to a relatively high dose of radiation. In contrast, cone beam imaging uses a focused x-ray that only scans the head.
CT Scans can easily take 15-30 minutes. CBCT scans usually take 10-70 seconds, depending on the particulars of the scan. This means that you spend less time both in the scanner and in the waiting room.
Can Be Customized To Scan Different Parts of the Face
CBCT imaging can be used for comprehensive scans as well as individual parts of the facial anatomy.
 
How We Use CBCT
Dental Cone Beam CT is commonly used for treatment planning of dental implants and dental diagnostics. The advancement of dental medicine has brought about some of the most incredible methods for medical imaging. Cone Beam CT Imaging It is also useful for more complex cases that involve:
Surgical planning for impacted teeth.

Diagnosing temporomandibular joint disorder (TMJ).

Determining bone structure and tooth orientation.

Reconstructive surgery.

Accurate and safe placement of dental implants.

Advanced Diagnostics for treatment planning